VSS Conference | VRA Member Offer
Posted on 30 September 2022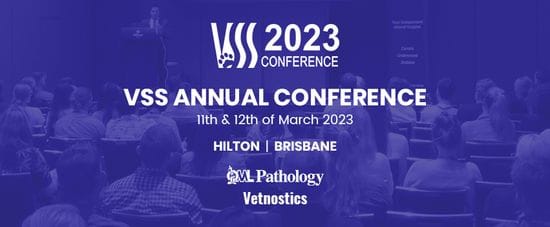 Offer to VRA members
Our sixth annual VSS Conference has just been announced, and we're excited to see you all there.
As a way of saying thank you to our Vet Resource Area subscribers, we've created a separate, exclusive ticketing portal with discounted prices.
We ask that you don't share this link, but instead encourage veterinary friends and colleagues to learn more about the VRA and to join.
Member discounts:
Veterinarians: $595.00 (save $100)
Veterinary Nurses: $145.00 (save $50)
Learn more about the conference on the VSS Conference Website.
Claim your discounted tickets here.
About the event:
The event will be held at The Hilton in Brisbane and will take place from the 11th and 12th of March 2023.
We have an exciting lineup of leading veterinary experts and keynote speakers. Attendees will hear from:
Event details
The annual Veterinary Specialist Services Conference runs for two days and covers a wide range of veterinary topics such as surgery, internal medicine, pathology, cardiology, radiology, nursing, dermatology, dentistry, ophthalmology, physiotherapy, oncology, and more.
Read more about the event on the VSS Conference website.
Event Overview
Date: 11-12 March 2023
Location: The Hilton, Brisbane
Theme: Veterinary Services & Pet Health
Full conference pass for veterinarians: $695.00 ($595.00 using the VRA portal)
Full conference pass for veterinary nurses: $195.00 ($145.00 using the VRA portal)
Estimated attendance: 400 people
Thank you for being a part of the Vet Resource Area and the VSS community,
The VSS team