Veterinary Administration Careers Brisbane & Gold Coast
ADMINISTRATION/BEHIND THE SCENES CAREERS
Help keep Veterinary Specialist Services working smoothly.
Administration is fundamental to a dynamic veterinary practice
VSS looks after small animals and supports their human families with high quality veterinary care. This cannot be done without our dedicated and hard-working administrative team.
This important part of VSS covers many facets of an effective veterinary service. A veterinary administration job is multi-layered, rewarding, and interesting, and every day is different. You will be involved in staff coordination, financial management recruiting, marketing, human resources, IT, event organisation and management, problem solving, creative ideas and more. Vet admin truly is an amazing area to work in.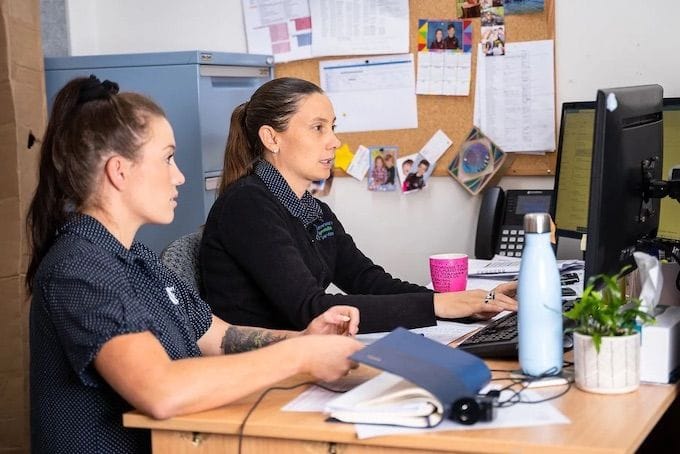 Veterinary Specialist Services is a fantastic place to work. With an awesome team and endless opportunities and employment perks, there are so many reasons why you will find job satisfaction at VSS.
Established specialist veterinary practices
With a great reputation for providing veterinary services of a high standard, the VSS team is proud of what we do for the community.
Our veterinary and administrative team is dedicated and enthusiastic about helping small animals gain a better quality of life, and supporting their human families. Being part of this great group of individuals is rewarding and exciting.
Wide range of challenging and rewarding roles
VSS offers many opportunities for our staff members to develop their skills and knowledge and expand their career trajectory in a supportive environment.
Working in a VSS veterinary practice is exciting and gratifying. It is a dynamic service with its focus on specialist vet care, meaning we require staff members who can fulfill their role with efficiency, kindness, and skill. We are excited to expand our administration team as VSS grows and in doing so, we are looking for someone with the following qualities:
VSS is a fast-paced service that requires autonomy and teamwork. An effective admin team is one with foresight and ambition, capable of anticipating and dealing with a range of possible challenges and tasks.
Veterinary admin jobs are multi-faceted and rewarding. There are so many aspects to cover and exciting opportunities, which means it is never a dull role! If you bring enterprise and innovation to the team, you will truly thrive.
Our veterinary team, our patients and their human families, and the referring vets depend on the VSS administration team. We need people who will carry out what is required of them with dedication and compassion.
Because VSS is a busy and specialist practice, organisation is key. Our admin staff members must work well in a bustling environment to keep the behind-the-scenes factors of a veterinary service working efficiently and effectively.
When people bring their animals into VSS, they may be facing a difficult or stressful time as we tend to their pet's specialist needs. That is why it is important for our admin team to be enthusiastic, confident, and caring.
Eager to learn new skills
We offer many opportunities to expand your skill set and knowledge to help you progress and excel in your veterinary administrative job.
Take the next step in your veterinary admin career
VSS is a fantastic place to work because of the great team, learning environment, facilities, and patients. Having capable and competent administration staff is fundamental to the success of a reliable and efficient veterinary service. We are excited to welcome new members to our team and look forward to hearing from you.
Learn more from some of our vet admin team
To express your interest in a position give us a call on07 3841 7011or complete the form below. We welcome the opportunity to meet and discuss roles with you further.