Companion Animals and COVID-19
Posted by VSS on 24 March 2020
Australian Veterinary Association President Dr Julia Crawford released a video message on 21 March 2020 regarding the implications of the COVID-19 pandemic for Australian pet owners and veterinarians.
Dr Crawford has provided much needed up to date information, guidance and above all assurance in what is a rapidly evolving situation.
Click the screenshot below to read the media release and watch the original video: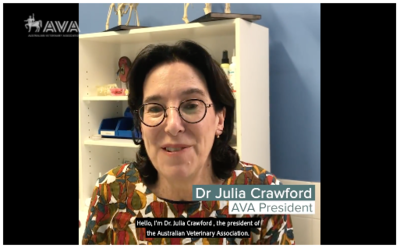 Key points covered by Dr Crawford include the following:
While there have been two dogs in Hong Kong who have tested positive to COVID-19, neither of these dogs showed any sign of illness
There is no evidence that dogs play any role in human infection
Please practice good hygiene around your pets and follow all instructions from public health officials
To read the media release and watch the original video by Dr Crawford, please click here. If you have any questions about how VSS will be operating during this time, please click here or call us on 1800 442 648.