Veterinary Specialist Services (VSS), one of the largest independent/non-corporate referral practices in South-East Queensland, currently has the following positions available:
VETERINARY NURSING AT VSS
SMALL ANIMAL INTERNAL MEDICINE SPECIALISTS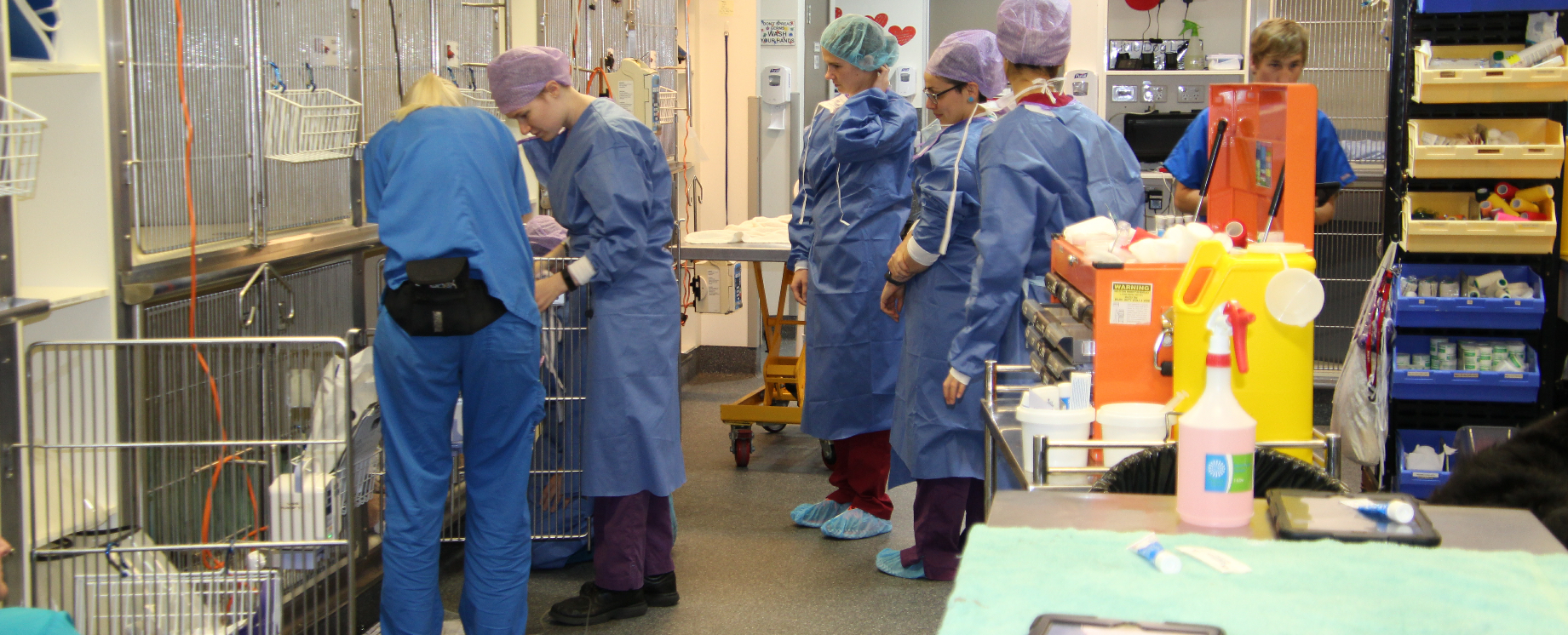 Are you feeling a bit chilly with the polar vortex? Are you looking to practice high quality specialty medicine in an internationally diverse practice? Consider moving to Australia, many of your ACVIM colleagues have already made the move after their residency and never looked back. Queensland experiences 300 days of sunshine annually with a subtropical climate. Our motto is gorgeous one day, perfect the next! Still not sure, have a look at google images of Tallebudgera Creek and Burleigh Heads, a 10 minute drive from our Gold Coast clinic.
Our team is a fun combination of Australians, Europeans, Americans, and South Africans. We have ACVIM/ECVIM/South African boarded diplomates in internal medicine, cardiology, dermatology, ophthalmology, surgery and Australian boarded diplomates in critical care, dentistry. The oncology and radiation oncology (ACVR) is within a 1 hour drive for treatments such as stereotactic radiation. We use teleradiologists (small island, not a lot of radiologists).
Envision copper crested cockatoos on your drive to work, waiting for a koala to cross the road, having a surf or a beach run before work, and actually getting to take all your vacation.
Why Australia?
We work to live, not live to work. Quality of life is important, we work but want to enjoy the beautiful paradise lifestyle. 95% of our specialists and nurses take big international trips yearly. It's the norm here.
4 weekday workweek with shared weekends rotating among a group of 10-12 (yes, 1 in every 10-12 weekends)
Vacation, vacation, vacation. 5 weeks of paid vacation plus 17.5% leave loading.
12 scheduled government holidays per year (another 2.5 weeks vacation)
1 week of paid conference leave with conference stipend
VISA sponsorship is easy, and in 2 years become a permanent resident with socialised (free) healthcare, bring yourself, bring your family (we can make that happen as well)
after 10 years of service, we offer long service leave, that is a 3 month paid sabbatical
The Gold Coast, Queensland is a place where a medicine specialist is able to obtain real estate within walking distance to beach. If you like the rainforest, our Hinterland is a short 30 minute drive away for hiking and mountain biking. Our clinic is about a lifestyle choice. If you like the city, consider our Brisbane clinic. If you love the beach, consider the Gold Coast Clinic.
Veterinary Specialist Services (VSS) is one of the largest independent referral practices in South-East Queensland with hospitals located in Underwood (south of Brisbane), Carrara (Gold Coast) and Jindalee (western suburbs). We have over 30 veterinarians and 80 support staff between our clinics.
YOU:
Diplomate ACVIM/ECVIM/MMedVet or have completed their residencies or about to complete and eligible to sit for specialist registration in internal medicine
Have a sense of humour and like to chat about interesting cases with your colleagues
Love to travel and want nearly 8 weeks off yearly between vacation, conference leave, and annual holidays
What we can offer you:
Our hospitals are purpose designed, state of the art facilities with dedicated ICU, CT, MRI, Video Endoscopy, Ultrasound and Fluoroscopy, physiotherapy and underwater treadmill providing a referral only service whilst working closely with an integrated 24-hour emergency service.
Paid Study leave for your board exams and continuing education allowance
Remuneration base salary and a percentage of your productivity, no negative accrual at all!
We are committed to finding the right team members - If you are interested in discussing opportunities within VSS, please email Human Resources at hr@vss.net.au or please contact our Director Internal Medicine Specialist Peter Barron, BvSC, FACVS (Medicine) at pbarron@vss.net.au


Our 12-month Vet Tech Intern program offers challenging and rewarding opportunities to launch your career in the veterinary industry. With a focus on Gold standard level of care, this program will expose you to a high number of specialist cases in a purpose-built facility.
Combining your completed studies with a 1-year professional Internship at Veterinary Specialist Services is the perfect way to gain real-life work experience and expand your veterinary clinical and technical skills.
---
do you want to train to become a Specialist Technician?
does continual learning motivate you?
do you want to work alongside a highly motivated and supportive team in purpose built hospitals?
do you want to lean gold standard excellence in nursing and patient care?
---
Why complete a Vet Tech Internship?
The VSS Vet Tech Internship provides UQ Veterinary Technology graduates with opportunities to both explore a variety of disciplines including internal medicine, surgery, oncology, cardiology, ophthalmology, dentistry, physiotherapy and critical care. This program provides Vet Tech Interns to train and work with some of the most senior nurses & experienced veterinary specialists in Australia.
Our Vet Tech Internship is a rotating position in the specific fields of surgery & medicine creating an opportunity for Vet Tech graduates to focus on honing their skills and knowledge in these disciplines.
Follow your passion in the pet care industry
enhance your skills and experience
communication and support from your mentor and team
communication and support from VSS and UQ staff
put theory-based learning into practice
professional development
Intern Program
The VSS Vet Tech Internship is:
a 12-month, fixed-term employment contract aimed at increasing clinical and technical skills in a specialist hospital environment.
a comprehensive training & orientation program designed specifically for specialist nursing
a support network of experienced mentors and a dedicated veterinary team
the opportunity to participate in Occupational Health and Safety Processes
practical and theory based learning: Seminar attendance
the opportunity to participate in Workplace Communications
Internships commence January of each year for the 12 month placement.
Contact Information
For further information, or to submit your application, please contact Human Resources at hr@vss.net.au